All the largest Ukrainian advertising holdings traditionally took part in the survey: Publicis Groupe Ukraine, Dentsu Aegis Network Ukraine, Omnicom Media Group (Media Direction and Optimum Media), razom communications and Group M.

As part of a regular initiative, Kwendi Media Audit team has consolidated media inflation forecasts from market experts. The survey data is presented as an average value for each media with the indication of minimum and maximum inflation forecasts. The survey was conducted in November 2019.



Consolidated results of advertising market experts survey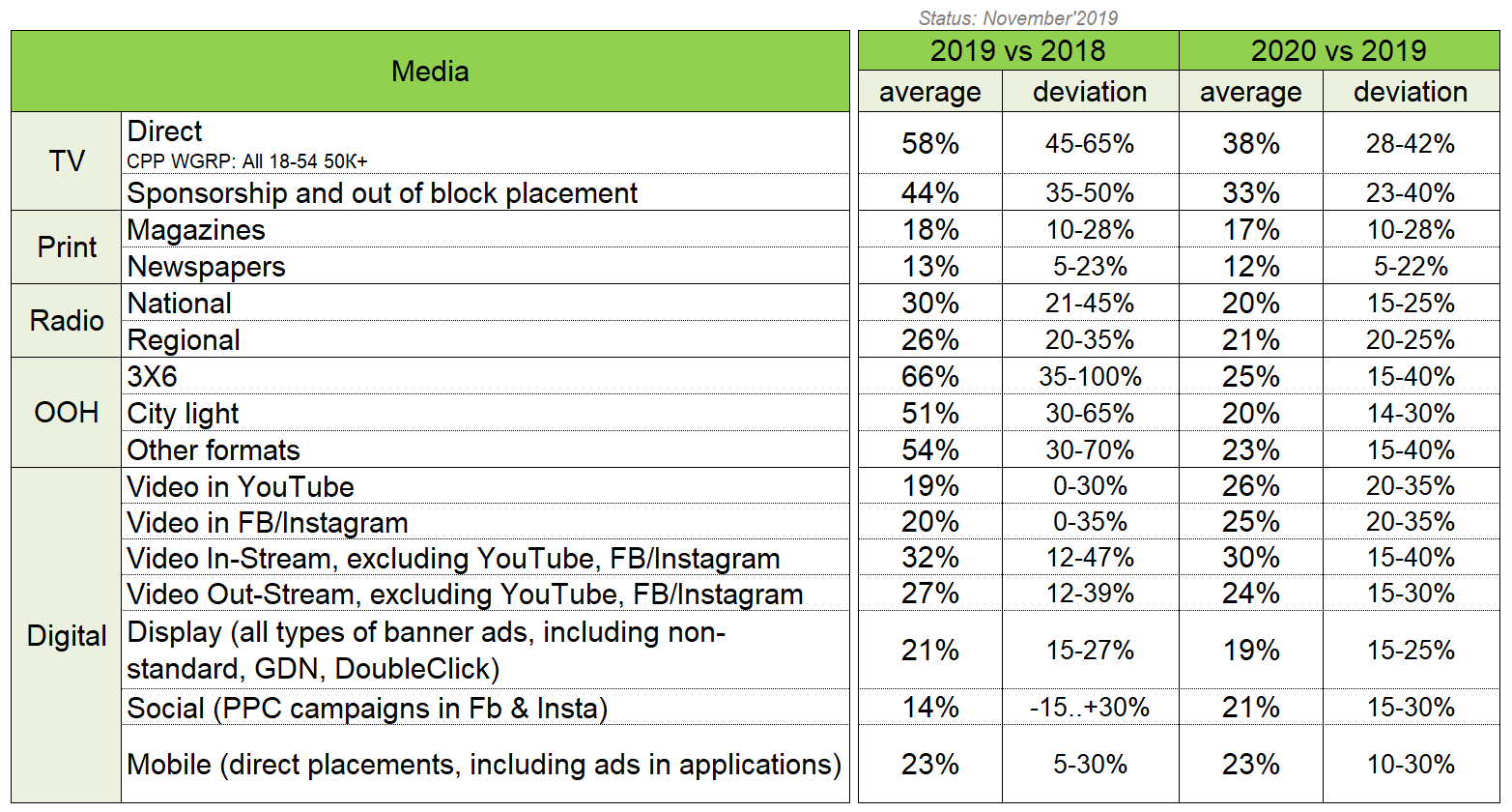 Comparing to the August survey, the foresight of media inflation for direct TV ads in 2019 grew up by 2 percentage points. Amongst the other types of media, the consolidated evaluation for the current year slightly increased for newspapers (from 12% to 13%) and display (from 19% to 21%).

The updated estimate for 2020 slightly decreased for the majority of media types. As before, respondents expect that TV will show the highest price increase and print media are to show the lowest. The most significant drop in the inflation rate is expected in OOH, in which high estimates in 2019 were due to the presidential and parliamentary elections.

All forecasts are given for price inflation in national currency.

Kwendi Media Audit thanks to all survey participants for their support of the initiative to create a transparent consolidated assessment of price movements in the market. Our company conducts regular surveys of Ukrainian largest advertising holdings regarding media inflation since 2014.

Kwendi Media Audit conducts independent expertise of effectiveness advertising investments in media on the markets of Central Europe, Caucasus, and Central Asia. Kwendi Media Audit was established in 2005 and during that time audited 1000+ advertising campaigns with a total budget of more than $ 1 billion. Kwendi Media Audit is a partner of leading international companies — Ebiquity, ECI, DG2, Stars, Media Path, MediaSense, FutureLab, and others. Please, find more on www.kwendi.net.